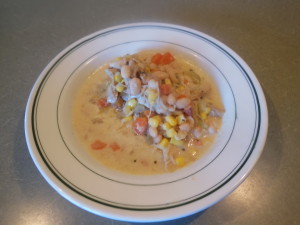 1 lb. cooked chicken
4-6 c. chicken broth
1 medium onion, chopped
3 ribs celery, chopped
3 carrots, chopped
2 T. butter or olive oil
2 cans white beans
1 c. frozen whole kernel corn or 1 can shoepeg corn
2 t. ground cumin
1 t. oregano
¼ – ½ t. cayenne pepper
1 t. salt
1 c. sour cream
Saute chopped onions, carrots, and celery in butter or oil until tender. Add cooked chicken (I used leftover frozen turkey) and broth and simmer for about 15 minutes. Add beans, corn, and spices and simmer for about 15 more minutes. Stir in sour cream when ready to serve. Serve with crackers or cornbread.