Does the recollection that Thanksgiving is a mere two weeks away or that Christmas is only six weeks away make your head spin? Me, too. With all of the myriad of items on our collective To Do Lists, let's make our cooking do triple duty.
We're going to purchase one large chuck roast (or two if one will not yield leftovers for your family) and use it to make three meals, one of which can be frozen for a quick dinner during the holiday season or for a nutritious lunch in the thermos on a cold day.
Meal 1
Pioneer Woman's Perfect Pot Roast, served with Mashed Potatoes, Gravy, and Green Peas.
Retain any fat that you trim from the roast and pan drippings in your roasting pan. Return any leftover onions and carrots after the meal is served back to the pan as well. Add about 16 cups of water to the pan and cook right on the stove-top over medium heat until it reduces to a nice rich color. Let cool. Pour broth through a strainer and into quart jars, leaving an inch or so of head space. Freeze.
Meal 2
Beef Stirfry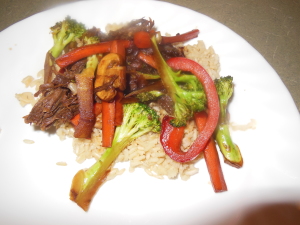 Leftover roast beef, sliced (Save half of your beef for Meal 3)
1 t. minced garlic
¼ t. ground ginger
½ c. soy sauce
2 T. olive oil
1 onion, sliced
2 carrots, cut into thin sticks
1 broccoli crown, cut into spears (or snow peas, zucchini, or whatever veggie you have in the fridge)
4 mushrooms, sliced
Mix soy sauce with garlic and ground ginger and pour over leftover roast beef to marinade.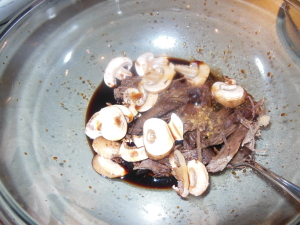 Cut all of your vegetables. Saute vegetables in olive oil over medium-high heat, beginning with the onions for about 5 minutes first.
Then, add in the carrots and stirfry until almost tender.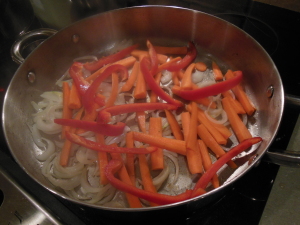 Add remaining veggies last as they will take less time to get tender, adding beef with marinade as the broccoli and mushrooms cook. Serve over brown rice for a quick weeknight meal.
Meal 3
Vegetable Beef Soup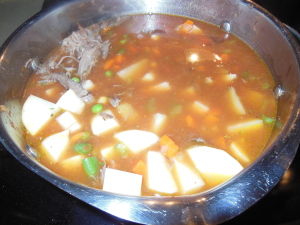 Remaining leftover roast beef, shredded
2 T. olive oil
1 onion, chopped
2 carrots, chopped
3 ribs celery, chopped
2 large potatoes
1 bag, frozen mixed vegetables
1 small can tomato paste
2 quarts beef broth
1 t. salt
1 t. sugar (to reduce the acidity of tomato paste)
½ t. pepper
½ t. parsley flakes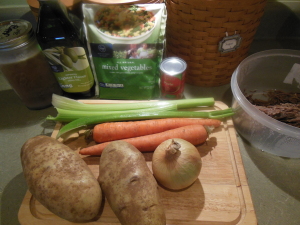 Saute onion, carrots and celery in olive oil until tender.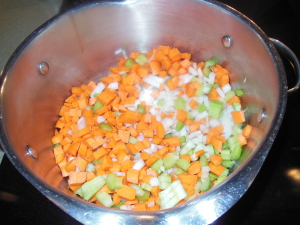 Add potatoes and one quart of beef broth and simmer for 15-20 minutes before adding remaining ingredients. Simmer over low heat until all vegetables are cooked through and flavors blend.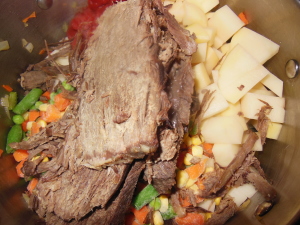 Serve for a meal. Transfer leftovers to pint or quart jars, leaving an inch or so of headspace and freeze.
Frozen Meal Helpers
Beef Broth and Vegetable Beef Soup
Enjoy!