I love New Year's Day. From the parties, noisemakers, confetti, champagne, and the iconic ball-drop in Times Square, New Year's Eve seems to get all the attention. While all of that is fun and games, I adore a quiet New Year's Day spent at home with our little family watching the Rose Parade in front of a nice fire, listening to Bowl Games droning on in the background while I prepare a traditional meal, and looking forward to the main event. The HGTV Dream Home Special, that is!
I like to use dried blackeyed peas as fillers in my candle hurricanes in this mantlescape as a nod to New Year's tradition. Speaking of food traditions, let's get to the New Year's meal.  Beans or peas are on many families' menu as they resemble coins. Blackeyed peas are the legume of choice in the south in a dish called Hoppin' John served with cornbread. This hearty fare also incorporates pork which is also eaten as a symbol of progress by way of the animal continuing to "root" along and wealth because of its rich fat content. Cooked greens, ranging from collard greens to cabbage are eaten to represent money. My take on the green portion of the meal is coleslaw. Why, I don't know, but thinly sliced home fried potatoes round out our meal.
Hoppin' John
1 onion
2 carrots
2 ribs, celery
2 T. butter or olive oil
1 lb. breakfast sausage or smoked sausage, browned and drained
1 package, frozen blackeyed peas
1 package, long grain and wild rice
4 cups, chicken broth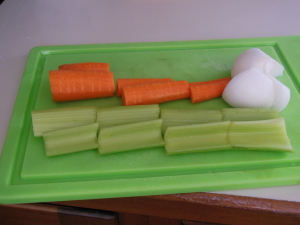 Start by chopping vegetables into a fine chop.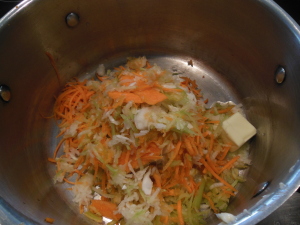 I used the food processor to shred the ones in this photo. Then, add them to the soup pot with butter or olive oil to saute until tender.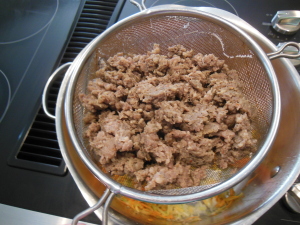 Add in your browned sausage.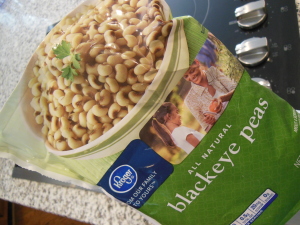 And your blackeyed peas.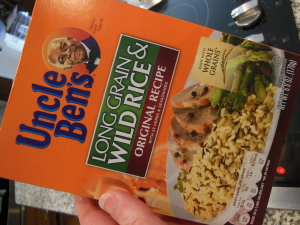 And your rice, with the seasoning packet.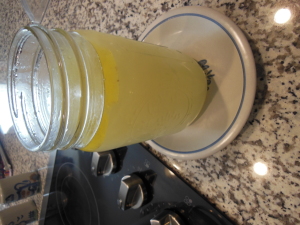 Finish with your chicken broth.  You can use a carton, but I make mine when I roast a whole chicken and freeze it to use when I need it.  More about that here.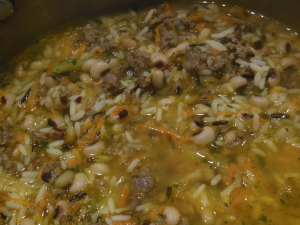 Finished product.  Yum!  I can smell it already.
I always look forward to this simple meal after the rich dips and desserts of Christmas have come and gone.  It is a carb-laden feast, but the healthy fare starts on January 2nd at our house.  The interior Christmas decorations have all been packed away and it is time for a clean slate.That is what we all love about a new year, isn't it?  The old has been wiped clean.  The year before us full of possibilities for us to experience, achieve or change.  2 Corinthians 5:17 says, "anyone who belongs to Christ has become a new person. The old life is gone; a new life has begun!"  Make the most of yours in 2015.