With summer produce at its peak, I love to combine it with what I have on hand and see how dinner unfolds. It's a different approach from the planned-in-advance dinners that are so necessary for my sanity on school nights. This is a little number I came up with last night as a dinner for two for the hubs and me with the girls away at camp. You never know how these experiments will go, but this one was a WINNER!
First, I cut a sweet onion in half and then into strips and added it to an iron skillet on medium-low heat with a couple tablespoons of olive oil to caramelize. Caramelized onions can't be rushed, but the flavor of savory and sweet together is well worth the wait. Trust me on this! I wish I had taken a photo of the glorious things while they were still in the skillet but I will have to add that in the next go-around.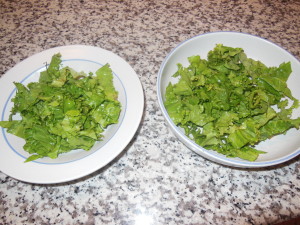 Next, start assembling the salads with some nice salad greens, washed and chopped. I used green leaf lettuce.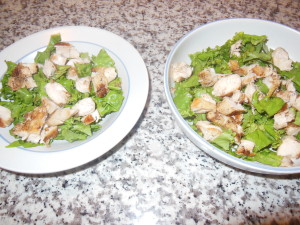 Then, add some sliced grilled chicken breasts. I usually grill extra to have on hand for salads or quesadillas. Just a quick sizzle in the onion skillet will warm them up for the salad.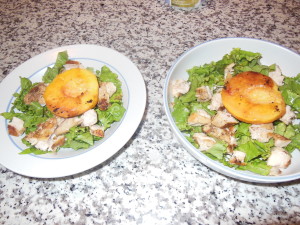 Keep that skillet at the ready, to sear the cut edge of some beautiful fresh peaches or just add them to the grill when your chicken comes off, your call. My friend Allison introduced me to grilled peaches a few summers ago, and my life has never been the same!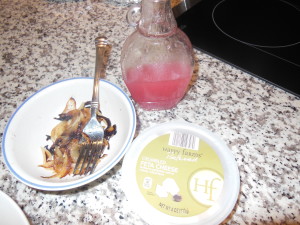 Now for the toppings. Sprinkle on some crumbled feta cheese but don't go sparingly on the onions. Did I mention how much I love them? Then drizzle with a tangy vinaigrette. I use Red Wine Vinaigrette but a nice Balsamic Vinaigrette would be delicious also. Be ready for a flavor explosion between the smoky grilled chicken, the sweet peach, the salty feta, the savory onion, and the sweet and sour vinaigrette.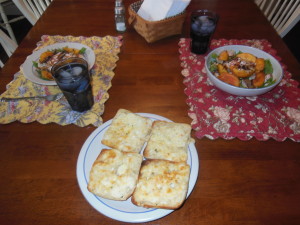 I served the salads with spicy pepper jack cheese bread to take the meal over the top.  I hope you'll try it and come back to share your thoughts. Happy summer!