What a thrill to share the trip we just returned from up the coast from Boston, Massachusetts, to Bar Harbor, Maine! To celebrate our 20th wedding anniversary, the hubby and I wanted to go someplace we hadn't been before and make new memories together. We were so excited our friends shared their itinerary from their trip to Coastal Maine last summer. There are just so many possibilities that I have a hard time making decisions. We were able to take their recommendations and adjust them to meet our time frame, a glorious six nights away from the responsibilities of home.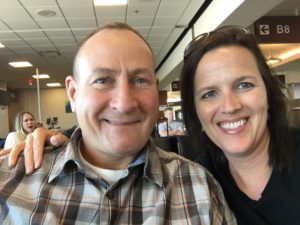 We flew from Nashville to Boston and picked up our rental car at Boston Logan Airport. The airline tickets and rental car were the only reservations we had made ahead of time. I had looked at hotels and tickets before we left, and availability didn't seem to be limited for the last week of August. We wanted to be able to travel at our own pace without having to rush from one place to the next.
We drove from the airport up to Newburyport, Massachusetts for a late lunch/early dinner at The Black Cow Taproom & Grill. We enjoyed calamari and fish and chips on the beautiful covered deck on the water, then took our time walking along the pier and exploring the downtown.
After dinner, we drove up through the Hamptons and into York, Maine. This church in the Hamptons caught my eye at sunset. It's no wonder the rich and famous vacation in this beautiful area!
Our friends suggested the York Anchorage Inn but it seemed to have drawn more of a party crowd on the night we arrived so we looked for something a bit quieter. We settled on The Lighthouse Inn and Carriage House. It a cute, old school place but very clean and comfortable. We walked down to York Beach and around the peninsula that night.
We grabbed bulkies for breakfast at the Long Sands General Store on the way out of York the next morning. This classic New England deli was a really cool local place and the sandwiches were delicious.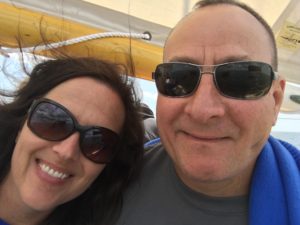 The plan was to go on a Sailing Cruise on the highly recommended Schooner Eleanor in Kennebunk. We got word of an opening for their 11:00 a.m. cruise so we had to skip the rest of the sights in York to head on up. The boat itself is beautiful but the sailor dog took the show!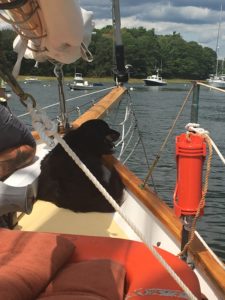 We loved the relaxing sailing tour of the coast including Walker's Point, the 10-acre compound where President George H.W. Bush's family has vacationed for generations. His great grandparents had a vacation home built on the property for a wedding gift for his maternal grandparents. It remains a place where they spend their summers from Memorial Day through Columbus Day. A large American flag is visible from the waters' edge, and the presidential flag flies below it when they are in residence.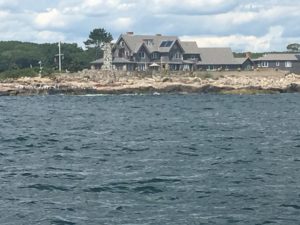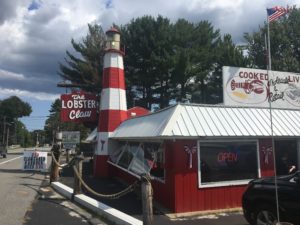 We continued our drive north on Highway 1/1A after the cruise and stopped for our first lobster rolls at The Lobster Claw in Saco for a late lunch. I had assumed they would be hot buttered lobster meat on a roll. Instead, the lobster is cold with mayonnaise on a bed of lettuce more like a seafood salad. Still delicious!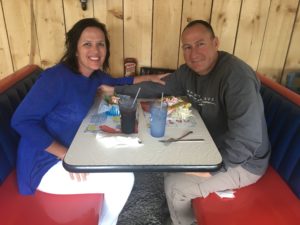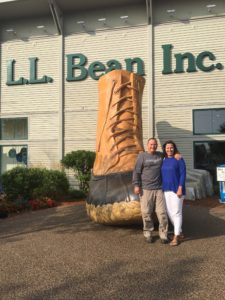 Next stop was the LL Bean flagship store in Freeport. It was fun to look through the huge stores for each department. I especially found the large department full of backpacks and lunchboxes fun to see as I have ordered them for years for the kids. They even had a monogram room to get them monogrammed onsite. On the other hand, who wouldn't be entertained by a giant squishy beanbag chair?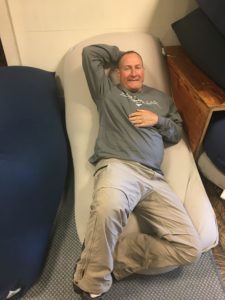 We chose to stay at the Harraseeket Inn there in Freeport that night. It was a beautiful inn with a friendly staff. We had dinner at the inn's pub that night as the weather was a bit chilly. Our stay included a wonderful breakfast buffet with French toast, two choices of frittata (a cheese and a veggie with asparagus), nice baked goods, fruit, breakfast potatoes, bacon and sausage, smoked salmon, and a curious dish of baked beans with pork. We had never seen those served at breakfast before.
We had planned to stop in Boothbay when we left Freeport, but opted to head on to Bar Harbor instead. It was a bit longer drive but we stayed on Highway 1/1A instead of using the state's only Interstate Highway.
From there, we stopped in Portland for shopping. We looked at Sea Bags in one of the shops that are made from recycled sails when they are replaced. There are many beautiful colors and designs to choose from but they were a bit pricey.
Our next stop after Portland was Camden, Maine, where we enjoyed the local shops on Main Street and had lunch at the Camden Deli. We shared a sandwich, clam chowder, and cannoli but the novel experience of a traditional deli that is less common in the south was the real draw.
We toured some of the beautiful old B&B's once we arrived in Bar Harbor but ultimately booked a room at the Bar Harbor Grand Hotel for two nights. After we got settled, we drove through Acadia National Park, stretched our legs on the Great Head Trail above Sand Beach, and picked up a map to decide which trail we wanted to hike the next day.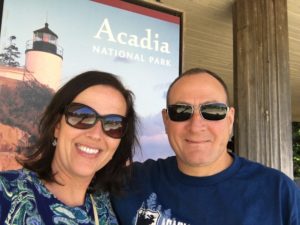 We were very pleased with the hotel desk attendant's recommendations for dinner. We had lobster and fish and chips at Geddy's Pub on Main Street after walking through the downtown area and checking out the sights.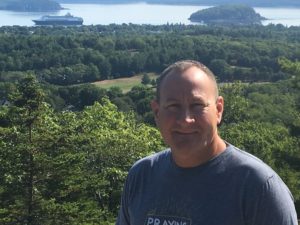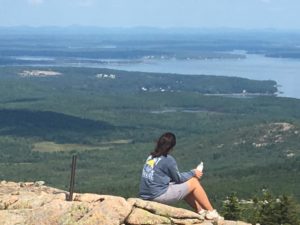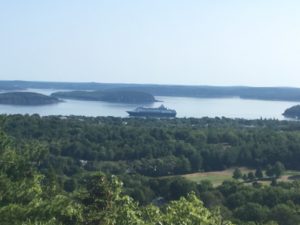 We wasted no time the next morning going to Acadia National Park to hike the North Trail up Cadillac Mountain. It was a 2.2 mile hike up over large rocks so I was a slow-goer. As always, the view from the top was worth the effort.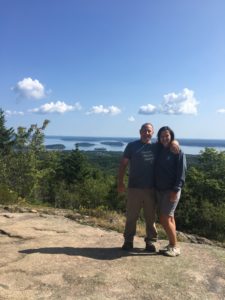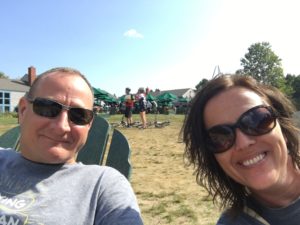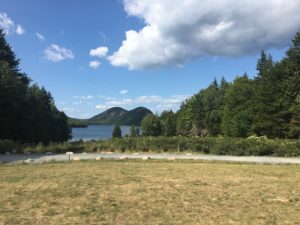 We shared lobster and crab cakes and scallops for lunch at the Jordan Pond House after completing our hike and enjoyed the views of the water there.  Then, we went back into Bar Harbor to enjoy the shops and the charming downtown. The cool temperatures had me imagining how cute the town would be decorated for fall.
We loved the Side Street Cafe that night. The best part? They actually served fresh-brewed Southern Sweet Tea! The burger and lobster rolls were quite delicious as well.
We had a hard time deciding where to spend the last two nights of our trip, considering going over to the White Mountains of New Hampshire while we were so close. Ultimately, though, we chose to go back down the coast to Ogunquit because we had to rush past it on the way up to make our cruise in Kennebunk.
We stayed at the Juniper Hill Inn there right on the edge of the walking downtown. There is more traffic there as it is a popular beach town with only Highway 1 as their main thoroughfare. If you're looking at staying in this area, we would recommend staying anywhere between our hotel and Perkins Cove.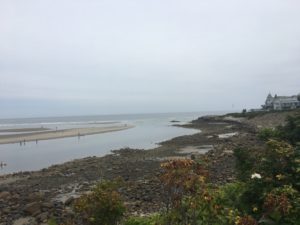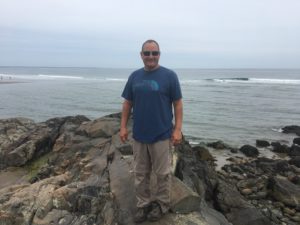 The Marginal Way, is the main attraction in this town! It is such a beautiful paved pathway overlooking the Atlantic Ocean there. We walked down to Perkins Cove and enjoyed dinner on the water at Jackie's Too. The food was good but the service was lacking. They actually charge for refills on soda which I found disappointing considering what you are paying for food.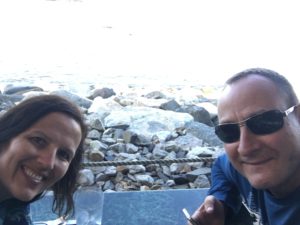 Perkins Cove is a beautiful area on the water with a footbridge to the other side of the cove that raises to allow boats access to the Cove. People from surrounding beach communities boat over for dinner on the water including our former President George H.W. Bush and First Lady Barbara Bush.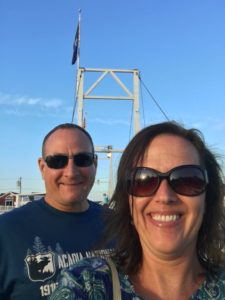 Our favorite place we ate there was Barnacle Billy's Etc. the next day. We spent it doing much of the same, walking through town exploring wonderful shops and galleries. Ogunquit was a wonderful choice for spending our last two relaxing days away from it all.
Our last breakfast was at the adorable Cove Cafe. It was fun to soak up every last minute together. The atmosphere was perfect but we found the food a bit pricey and overrated.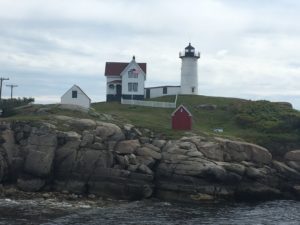 We were able to drive back through York, Maine, on the way back to Boston to see the Nubble Lighthouse. What a view!
We are so thankful for our families who stepped in to supervise things at home so we could be away. When in Maine, eat the lobster!