1 whole chicken
1 onion, quartered
2 carrots, cut into pieces
2 ribs celery, cut into pieces
1 T. butter or olive oil
Your choice of seasonings, from seasoned salt and pepper, to fresh herbs, to my choice of homemade taco seasoning for a little more flavor.
Begin by placing a whole chicken in a roasting pan and removing the neck and giblets from the body cavity.  Save those icky parts for broth-making in a zipper bag in the refrigerator.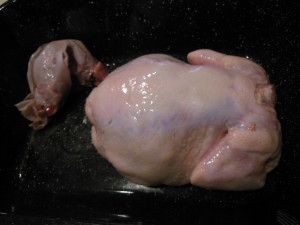 Cut the vegetables to use for stuffing.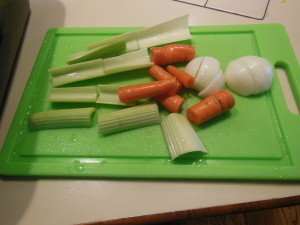 Stuff body cavity with vegetables, adding any that won't fit in the roasting pan around the chicken.  Smear butter over the top and sprinkle with a liberal dose of your favorite seasonings.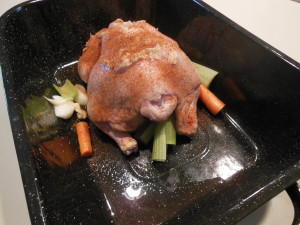 Bake at 375 for 1 1/2 to 2 hours or until the internal temperature reaches 180 degrees.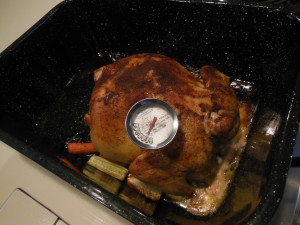 Voila!  You now have dinner for the first night.  Hold on to those vegetables in the roasting pan, though.  After you have served the roast chicken, pick the remaining meat from the carcass and save for a casserole, soup, sandwiches or salads.
Then, add the bones and skin back to the roasting pan with the vegetables you roasted it with and those neckbones and giblets you saved in the fridge.  Drown them in about 16 cups of water and place over medium-low heat until the liquid reduces by about half and becomes a nice rich golden colored broth.  Strain the liquid and discard everything else.  Allow broth to cool before storing in an assortment of pint or quart jars in the freezer.  Be sure to allow about 1″ of head space so your jars don't crack.
The byproduct of homemade chicken broth is one of the best parts of this chicken!  You get to control the sodium content, eliminate the preservatives, and the cost.  Since you've already paid for the chicken, the broth is free.